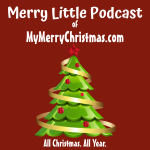 Even Christmas has birthdays — special occasions of Christmas past that we have to look back on and remember. Is this episode of the Merry Little Podcast we explore the Christmas anniversaries of 2017 including the greatest hits of 50, 60, 70, 80 — even 160 years ago!
You can't have an episode like this without spilling into some Christmas history either. For example, did you know that 2017 marks the anniversary of the first time eggnog was consumed in America?
Come along and enjoy this stroll down Christmas memory lane as we celebrate the anniversaries of Christmas.