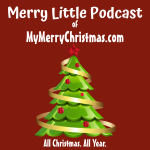 Our annual anniversaries episode of the Merry Little Podcast celebrates Christmas Cowboys and several iconic elements of the season celebrating a Christmas birthday of sorts.
Our friend Glen Warren of the Seasons Eatings Podcast sets down his ladle for a look into the legend and life of Gene Autry, the original crooner of Rudolph the Red-Nosed Reindeer and author of a variety of legendary Christmas hits.
This episode also celebrates the 75th anniversary of both The Christmas Song by Nat King Cole and It's a Wonderful Life. What would Christmas be without them?
Other milestones enjoying a Christmas birthday this year are Christmas albums from Elvis and Kenny Rogers and – can you believe it? – it's the 10th year anniversary Michael Buble's Christmas.