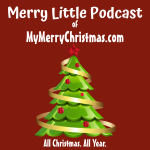 Silent Night is arguably the most popular Christmas song of all time. You thought it was White Christmas, right?
White Christmas might have the biggest sales numbers from a single artist…but Silent Night collectively from artists all over the world have easily outsold White Christmas.
Of course, it had a bit of a head start.
Born of humble origins in Obendorf, Germany 200 years ago in 1818, Silent Night has for generations enjoyed tremendous popularity that never seems to wane. It has been recorded in dozens of languages and in nearly every country in the world. Unlike White Christmas, Silent Night is performed annually by memory from crowds who gather at Christmas all over the world.
Can White Christmas say that?
In this merry episode we bring you the history — and bust a few myths — about the Christmas classic Silent Night.
Did you know, for example, that Silent Night is so revered in Austria that you can't use it to promote a product or to make money?
What is it about Silent Night that makes it so attractive? Why is it that we can sing it from memory — without even thinking about it for more than a year?
This is the power of the music — and the message — of Silent Night.