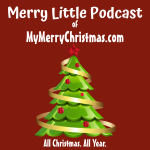 The common images of Christmas feature snow, Northern pines, cabins in the woods, and frosty climates made just for the likes of reindeer and Santa Claus. But there is another place where Christmas is warm — and where traditions are born. For Americans, that place is known as the South.
In this merry episode we explore elements of Christmas we celebrate that are distinctly southern and pay homage to the many great American traditions that are born in the South. Our continuing exploration of Christmas' origins in America takes a stop on the tour in the South because Christmas today would not be what is it without them.
"Jingle Bells", for example — a song filled with Northern snowy imagery — is actually very Southern.
We explore the origins of the song, as well as other important, traditional elements of the season.
We also share personal histories of Christmas in the 19th Century in the South. This isn't the stuff of historians — this is from real folks who celebrated Christmas deeply, and often loudly.
After all, it's Southern — y'all.