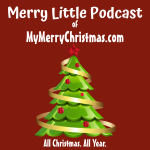 How do you track Santa? We do it the old fashioned way — with the news and the data of tracking Santa coming straight from the North Pole. This episode features highlights of Santa's wild Christmas ride of last Christmas Eve as broadcast on Kringle Radio.
Over the course of 50 hours the North Pole streams the greatest of Christmas music for Santa via Kringle Radio and the world gets to listen in — especially as news breaks every 15 minutes or so giving the world Santa's position and tells the stories that make up "Operation Merry Christmas".
The story unfolds on our sister site, SantaUpdate.com, a merry little effort founded more than 25 years ago. All year long this festive, commercial-free site tells kids the story of Santa, elves, reindeer and life at the North Pole.
Each day from Thanksgiving to Christmas Eve a new update is posted and it all culminates with the radio broadcast on Christmas Eve long before Santa ever launches from the North Pole.
Why does it take more than 50 hours to broadcast? That's because Christmas Eve dawns in the far corners of the world when it is still December 23rd for the rest of us. We want to tell the story to them as much as anybody.
In this episode you'll hear snippets of the news in sequence with the story line. You will hear news broadcasts, interviews with eyewitnesses who saw Santa in flight or in their homes, and you will hear discussions between elves as they analyze Santa's flight and how it was going. It's great fun and entirely unique.