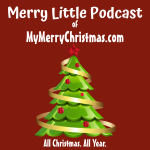 The Tabernacle Choir and Orchestra at Temple Square are featured in this merry episode about Christmas in our own backyard.
We are local to Salt Lake City and enjoy a wide variety of Christmas culture. This includes the magnificent downtown venue of Temple Square, home to the Salt Lake Temple of the Church of Jesus Christ of Latter-day Saints.
Temple Square is famously decorated for Christmas and features one of the largest Christmas light displays in the world. It also has stunning Nativity displays and art. The several buildings house crowds of all sizes to accommodate performances from local artists and groups.
The most famous of these groups is the Tabernacle Choir, who has called Temple Square home since the 1860s. They first performed in the still-standing Tabernacle, for which the Choir is named. In their history of touring and regular concerts no other activity by the Choir is as well known as their annual Christmas concert, which is featured on PBS in a nationally aired broadcast every holiday season.
The Christmas concerts by the Tabernacle Choir feature the Orchestra at Temple Square, a hand bell choir, dancers and actors from local companies. Nearly all local performers are volunteers. It is a Choir custom to invite renown guest artists to perform each year.
Past performers include Broadway stars Audra McDonald, Kristin Chenoweth, Angela Lansbury, Kelli O'Hara, Santino Fontana and Laura Osnes; R&B singer Gladys Knight; the late jazz singer Natalie Cole; pop singer David Archuleta; legendary newscasters Walter Cronkite and Tom Brokaw; historian David McCullough; the Muppets from "Sesame Street"; actors Jane Seymour, Hugh Bonneville, Richard Thomas, the late Ed Herrmann, John Rhys-Davies, Roma Downey, the late Peter Graves, Claire Bloom, Michael York and Martin Jarvis; opera stars Renée Fleming, Deborah Voigt, Frederica von Stade, Bryn Terfel, Nathan Gunn, Alfie Boe, Sissel, Rolando Villazón and four Metropolitan Opera soloists and the London-based a cappella group, The King's Singers. Collectively, the featured guests have garnered 34 Grammy Awards, 19 Tony Awards, 14 Emmy Awards, 10 Golden Globe Awards, three BAFTA Awards, one Academy Award, a Screen Actors Guild Award and an Olivier Award.
These concerts are a massive effort.
In this merry episode we speak with Scott Barrick of the Tabernacle Choir about everything that goes into getting these concerts produced. This episode features a healthy dose of Tabernacle Choir music and information about a new two-hour holiday special airing on PBS before Christmas.
But that's not all. In this episode we also hear from two other artists performing on Temple Square – Allie Gardner, who with Wade Farr performs a haunting version of O Come O Come Emmanuel. That song is the oldest Christmas carol on record and we tell its fascinating backstory.
We also share the incredible version of The First Noel performed last Christmas by Bryson and Tierra Jones, a must-hear tear-jerking arrangement of the classic Christmas song by Jared Pierce.
We invite you to see more images and videos of the Tabernacle Choir and Christmas on Temple Square on our website at MyMerryChristmas.com
Notes: