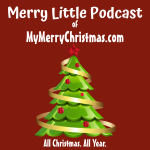 Christmas decorating could be a problem this year. Have you noticed how your local grocery store has no selection of bottled water? Believe it or not, the same thing causing a shortage of bottled water could affect Christmas decoration supply this year. It just another reality heading into our 2nd pandemic Christmas.
This episode of the Merry Little Podcast talks about how Christmas decorating will be different this year because of all the weird going on in the world. We reached out to experts at Bronners.com, the world's largest Christmas store, to tell us what is going on and how everything to do with Christmas decorating will be affected.
While decking the halls will be different they will be decked. It is a tradition of antiquity. To that end we explore the history of "Deck the Halls" and explain why it wasn't only just a holiday tradition back in the day but also why it is as much a party song as it is a carol.
Of course, we find joy in sharing the decorating of Christmas as well with our 16th Annual Ornament Exchange at the Merry Forums of MyMerryChristmas.com. Pandemic or no, we're celebrating.
To that end, we invite you as well to explore more about Bronners with this great episode from our friends at the Sleigh Bells and Mistletoe Christmas Podcast, who talk with CEO Wayne Bronner about the story of the world's biggest Christmas store.