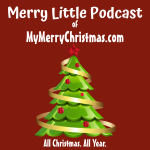 There is a rumor going around that nobody sends Christmas cards any more. Some say the days of stamping envelopes and receiving cards are done.
Don't believe every rumor you hear.
In this merry episode we explore the ancient — and still wildly popular — custom of Christmas greetings.
Of course, the average historian will take you back to the 1840's to give you the history of Christmas greetings. That's dumb.
Christmas greetings actually go back way before Christ. In fact, they are among the oldest of Christmas traditions.
Better still: greetings are a tradition that continues to grow in popularity.
This fascinating trip back in Christmas time just might restore your will to buy, write and stamp cards for sending.