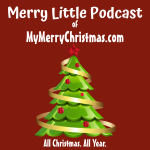 In this episode we celebrate Thanksgiving and Christmas together with a mix of old and new. Thanksgiving — that All-American holiday of festive foods married with historical debates — get a look through the lens of pandemic past.
We explore the Thanksgiving of 1918 and how it was the same and how it was different. This conversation comes as a backdrop to modern-day calls to abolish Thanksgiving by The New York Times and The Atlantic. While we agree some liberties have been taken with the history of Thanksgiving we have to take a real-world look at what Puritans and Native Americans really have to do with the Thanksgiving we really celebrate.
But highlighting this episode even more is the fact that Thanksgiving, as always, sets the Christmas stage and helps build the delicious anticipation we all get in Santa Claus.
Our merry little Thanksgiving Gobble Contest has yielded some festive results that we shared include the laughter of my 5 year old grandson who grabbed the microphone to tell me a Christmas tale that happened in my home just last Christmas. Mind you, I've never heard this story before — and it is, as all Santa stories are — a legendary thing.
And that led to the debut of our first edition of our reading of A Visit from St. Nicholas – the Merry Forums sponsored event we call the Twas the Night Before Christmas Read-a-thon.
This is an activity we have talked about for years that we have finally made a reality. And it is a little production sure to produce a smile and loads of Christmas spirit.
We also share some more new music. A new song from Robyn Scott titled I Saw Santa Last Night brings a party feel to this episode.
Song Details:
Title:  I Saw Santa Last Night
Artist:  Robyn Scott
Writers:  Robyn Scott & Brian Dolph
Length:  2:54
BPM:  100
ISRC:  CA8ZW1900001
I Saw Santa Last Night – Links: