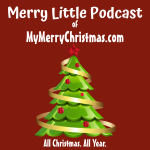 How do you teach someone how to celebrate Easter?
Do you really point them in the direction of colored eggs and plastic grass?
This episode of the Merry Little Podcast tells the true story of an atheist who has had a spiritual experience.
Profoundly changed by this out-of-the-blue event, he wants to know how his celebration of Christmas and Easter should change.
What would you say to him?
It is always a little scary to approach the very personal topics of the spiritual connections to Christmas and Easter.
And yet, we can't ignore or gloss over them.
For many years this man was one who alternated between anger and mocking when it came to things spiritual. And yet, he has always celebrated Christmas as a matter of tradition — and, for him, out of what he calls "stubborn nostalgia".
He is not unusual. Many of the faithless celebrate Christmas.
But now, a mid-life experience has changed it altogether for him.
Christmas this year will be very different. And Easter — how does he wrap his head around that?
This episode tells his story — carefully — and explores the connections between Christmas and Easter.